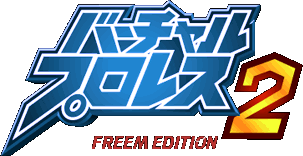 Official website
Virtual Pro-Wrestling 2 freem Edition
is a hack of AKI Corporation's Virtual Pro-Wrestling 2 on the Nintendo 64. The hack replaces various default VPW2 wrestlers with other wrestlers, most of whom have been in other AKI wrestling games. Unlike most other AKI wrestling game modding projects, the changes in VPW2 freem Edition are made by editing the ROM, meaning the resulting hack can be played on real hardware.
A quick rundown of what's been changed:
Replaced various wrestlers with wrestlers from other AKI wrestling games.

Replaced a small amount of wrestlers with new wrestlers (who haven't been in an AKI game before).

The game starts out fully unlocked; nothing is hidden.

Increased amount of points available for changing offensive and defensive parameters.

A bunch of graphical changes. This includes the user interface, as well as some arenas.

The first preview version was released on January 28, 2019. Expect future updates to fix issues and add other content that wasn't ready in time for the preview release.